I have a weakness for revolving restaurants. When I plan my travel, I often refer to my favorite Wikipedia entry: http://en.wikipedia.org/wiki/List_of_revolving_restaurants.
As if the combination of fine dining and 360° views weren't enough, the mechanics of the revolving restaurant fascinate me. Does the kitchen revolve as well? Where is the boundary between the revolving platform and the core and is there ever a problem traversing this barrier? This is what I think about as I enjoy the top-quality fare served by the proud members of this elevated fraternity.
Of course, one risk is that the machinery breaks down. Two of the four revolving restaurants in my home province of Ontario, Canada no longer revolve. Nothing is sadder than a revolving restaurant that no longer revolves.
When Yale announced it was considering building new residential colleges, I sat down to write a letter suggesting a revolving restaurant – or perhaps an entire dining hall (dare to dream) – as the hallmark of one of the new colleges: the first revolving restaurant on a university campus. But I was stunned to learn there already was one.
In 1967, the University of South Carolina opened a new 18-story dorm/conference center called Capstone House because it was to house graduate students who were to be the "crowning stone of the University." In seeking a capstone for Capstone, Greenville businessman Robert Wilson purchased and donated a revolving platform and mechanism from an exhibit at the 1964 New York World's Fair. (A revolving savant, Wilson went on to found Barbecue King and create the chicken roasting machines that have become common in U.S. supermarkets.)
The restaurant, called Top of Carolina, provides the best views of the Columbia metropolitan area and is open during the academic year for Friday BBQ dinner as well as a renowned Sunday brunch.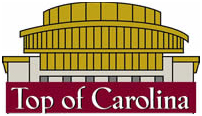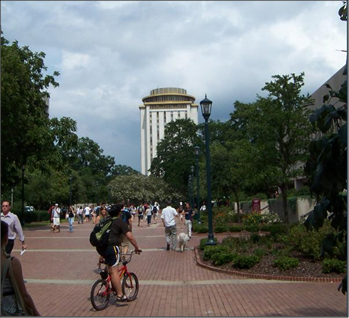 So I thought about how Yale might differentiate its revolving restaurant from South Carolina's. The obvious way would be to go taller. But then I hit upon it: faster. Top of Carolina rotates only once per hour. Yale's revolving restaurant could rotate one per minute and be equipped with seatbelts and Velcro to hold down the dishes and silverware. Yale thanked me for my creative idea, but sensibly and diplomatically informed me that the dining facilities in Yale's new colleges would only revolve around ensuring that students are appropriately fed.
***
Lazy Rivers are the aquatic equivalent of revolving restaurants. Little effort is required for a panoramic perspective. So I'm a big fan as well. But, as with revolving restaurants, I don't believe they belong on university campuses. The New York Times recently reported on the lazy rivers and other aquatic features built by universities. Texas Tech spent $8.4M on a waterpark with this lazy river and waterslide: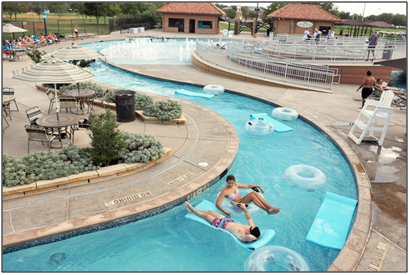 Auburn has developed a $52M waterpark including a 45-student paw-print-shaped hot tub and a 20-foot wet climbing wall. Pensacola Christian has put in a $1M wave rider. North Dakota State is building a waterpark with a 36-foot vortex of swirling water, a fireplace on an island in the middle of a pool, a rain garden to mist lounging students, and a zip line atop it all. Clemson is developing a 38-acre Lakefront property to include "blobs" – floating mattresses placed so students can jump "like [on] American Ninja," says the University's director of recreation. Louisiana State is building a lazy river that will spell out the letters LSU in the school's signature Geaux font. Missouri has a lazy river, waterfall, indoor beach club, and a grotto modeled after the one at the Playboy Mansion. Not to be outdone, Missouri State has put in a waterpark complete with zip line and lazy river, but insists on calling the lazy river a "current river" because Missouri State students are "not lazy."
According to the Times, 92 universities are reporting over $1.7B in recreation center projects. Texas Tech paid for its waterpark with an increase in student fees. Auburn raised its student activity fee from $7.50 to $200 to fund its waterpark.
If the students at these institutions aren't lazy, the officers and trustees of these institutions may be. In allowing students to fund these attractions, adding to their indebtedness, the prospect of a return on their investment in tuition and fees becomes even more daunting. While it's easier for officers, trustees, alumni, students and parents to compare institutions by looking at waterparks (easier, say, than looking at organic chemistry curricula – let alone student outcomes), lazy rivers don't even help oceanography majors. The only sensible university referenced in the Times article was Arizona State which, when adding a pool to its west campus in 2013, rejected the idea of having lounge chairs because students shouldn't be sunbathing.
***
Colleges and universities intent on spending money on resort-style living would be better off with Ritz-Carlton. A recent 3-day conference in St. Louis organized for colleges and universities by the Continuous Quality Improvement Network featured Ritz-Carlton trainers helping institutions improve their bureaucratic registrar, financial aid and student advising functions that contribute to our higher education system's world-beating dropout rate.
In terms of worst practices, the conference identified different offices, far apart and open only during business hours when many students attend only on nights or weekends. Advising was a particular sore point: lack of staffing (the average ratio is one advisor for every 400 students) and failure to effectively communicate the availability of advisors (only half of all community college students know advising is available). Even the seemingly least important back office function can play an important role in front office success by driving student persistence. Many colleges and universities have a great deal of room for improvement in these areas. Ritz-Carlton is helping colleges restructure the way these services are delivered by first thinking about students as customers.
Of course, waterparks demonstrate that treating students as customers is a slippery slope. In higher education, the customer isn't always right. This is where effective governance must come to the fore. Despite the fact that, as I have noted, higher education mission statements tend to be multi-faceted, complex and vague and that, often, there are so many bottom lines there's effectively no bottom line at all, you'd be hard-pressed to find a mission statement that justifies lazy rivers. In their investment and spending decisions, colleges and universities should be scrupulous about ensuring they are furthering their mission AND serving students. So no to lazy rivers, but yes to Ritz-Carlton training to improve student-facing functions. Institutions that disagree will go the way of the revolving restaurants that have stopped revolving.
Thanks to Daniel Pianko for the inspiration.
University Ventures (UV) is the premier investment firm focused exclusively on the global higher education sector. UV pursues a differentiated strategy of 'innovation from within'. By partnering with top-tier universities and colleges, and then strategically directing private capital to develop programs of exceptional quality that address major economic and social needs, UV is setting new standards for student outcomes and advancing the development of the next generation of colleges and universities on a global scale.