Mike Francesa, the "Mike" half of "Mike and the Mad Dog" of sports radio fame, is a man who prides himself on knowing everything about sports in New York, a media market where everybody thinks they know everything about sports.
A few years ago, Mike received a call from "David in Redbank," who wanted to get Mike's opinion on a rookie pitcher for the Detroit Tigers who had been tearing up the American League since being called up from the minors. The call is worth a listen and also transcribed below.
Mike: David in Redbank, what's up Dave?
Caller: Hey Mike, what's going on?
Mike: What's up?
C: I just want to talk about this guy Al Alburquerque. I mean, what's his deal? How bad is this guy?
M: Who is Al Alburquerque?
C: Al Alburquerque.
M: No. If you're trying to be funny, it's Albuquerque. It's not Al Alburquerque.
C: His first name is…
M: I mean. Oh jeez. Children near the phones. [HANGS UP]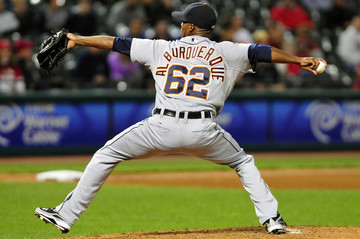 [A FEW MINUTES LATER]
M: I guess that young guy who called before was talking about the kid who came in the game last night. I thought he was making a joke about Albuquerque. Get it? But the guy's name is Alberto Jose Alburquerque. And I'm not sure. Maybe they do call him Al Alburquerque. I don't even know. But I've never seen that kid pitch before last night. But that's who he was alluding to. I didn't know he was talking about the pitcher last night. I thought he was making a joke. I thought the guy's name was Alberto Jose Alburquerque. I didn't realize they called him Al Alburquerque. If they do; I don't even know if they do. Because, you know, when he was in the game I didn't pay much attention to it, to be honest with you. But the kid's name Alburquerque who came up, his last name is Alburquerque. But I didn't realize they called him Al. Burquerque. They do call him Al Alburquerque, which I didn't even realize. You know. Because I'd never seen that kid pitch before last night. Chris in the Bronx, what's up Chris?
Mike's defensiveness and inability to admit he made a mistake caused his trigger-finger audience to go ballistic. Many pointed out that no one ever called the pitcher Alberto Jose Alburquerque. Other comments included:
"He obviously didn't know who the hell he was even though he was one of the best relievers in the A.L during the 2011 season. Seriously why can't he just admit he didn't know who he was? It's just bizarre."

"Mike: Just say you were WRONG. A simple apology would have been fine… No wonder everyone hates you Mike."
***
While radio talk show hosts are routinely wrong several times an hour, colleges and universities only have to be wrong once to end up at the end, AKA Sweet Briar College. Last week, following a decision by Sweet Briar's board of directors, the college announced that as a result of "insurmountable financial challenges," this semester would be its last. The corresponding video message from the College's President cited "two key realities that we could not change: the declining number of students choosing to attend small, rural private liberal arts colleges and even fewer young women willing to consider a single-sex education, and the increase in the tuition discount rate that we have to extend to enroll each new class." (Not to quibble, but I count three realities, which discrepancy may signal an even more fundamental problem.)
Understandably, the announcement was met with waves of sadness on campus. Reportedly, hundreds of young women began sobbing all at once. But the emotion online was different. When the message was simultaneously posted to Sweet Briar's Facebook page, hundreds of angry and defiant comments poured in from alumni and strangers alike. Questions were asked about the $85M endowment, "sketchy past actions" by the current and most recent former President, whether there were sweetheart severance packages for the college's leadership, if any directors of the college were in the real estate business and planned to take advantage of the "hugely valuable real estate," and also whether the college had restricted faculty and staff via nondisclosure agreements or "gag orders" from talking publicly. A Web site appeared with a $250M fundraising goal and on Twitter, someone invented the hashtag #savesweetbriar.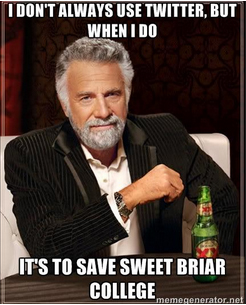 Turning from anger to ridiculous, at Buzzfeed, the progenitor of thousands of easy-on-the-brain Internet lists, someone sitting in New York created "15 Reasons to Save Sweet Briar College," likely without having ever visited the state of Virginia, let alone Sweet Briar. The "reasons" include:
It's Just So Freaking Beautiful
The Campus Is Haunted…Really!
They Have Some Kick Ass Slogans
The Mascot Is A Vixen Which Is Pretty Much The Coolest Thing Ever
***
If it's natural to get angry at Mike Francesa for failing to admit a mistake, why are so many people upset at the board and leadership of Sweet Briar College for admitting that their business model was effectively a mistake?
I believe it comes back to isomorphism, which I have written about on several occasions as perhaps the biggest challenge facing American higher education. Isomorphism is the phenomenon by which American universities have acquired similar characteristics. R.R. Reno describes isomorphism in a piece he wrote for First Things:
There aren't enough Nobel Prize winners to go around, so lesser universities chase the also-rans and young phenoms in the hope of gaining ground in the reputation race, offering them lighter teaching loads. To dampen the ill-will that arises when regular faculty began to envy the student-free lives of the academic heroes, the wealthier universities have consistently moved toward across-the-board reductions in teaching loads, with not-so-wealthy schools imitating this trend as best they can. This, of course, requires shifting still more teaching to graduate students and other adjunct, non-tenured faculty.
The result is a uniform model of program delivery through which most American colleges and universities aim to become "The Harvard of the _____" (fill in the blank for the region). They attempt to offer the same range of programs and provide the same services as an institution with an endowment of nearly $30 billion.
In the case of the Sweet Briar closure, isomorphism has worked the other way. Because Sweet Briar has most of the accoutrements of more elite institutions, we analogize Sweet Briar to our own college experience. If Sweet Briar can close, my institution must be in jeopardy. (I'm waiting for someone to create the Twitter hashtag #weareallsweetbriar.) This provokes anger and resistance.
***
The wisest words in the Sweet Briar dust-up come from William Bowen, former President of Princeton and the Mellon Foundation, who wrote the following in a foreword to the 2012 book Cautionary Tales: Strategy Lessons From Struggling Colleges:
Find not just a new direction; find a new direction that is sustainable.
Avoid 'cures' that are worse than the disease.
Do not squander or impair (by borrowing unwisely) assets.
Do not be forced to close and lose the capacity for wise choice.
Acknowledge problems and avoid an 'in-denial' existence.
Know that 'death with dignity' can be a good outcome.
Everyone would benefit from President Bowen's sage advice. Especially radio talk show hosts like Mike Francesa.
Thanks to Dave Friedman, an expert in the foibles of Mike Francesa and talk radio hosts generally.
University Ventures (UV) is the premier investment firm focused exclusively on the global higher education sector. UV pursues a differentiated strategy of 'innovation from within'. By partnering with top-tier universities and colleges, and then strategically directing private capital to develop programs of exceptional quality that address major economic and social needs, UV is setting new standards for student outcomes and advancing the development of the next generation of colleges and universities on a global scale.