I don't spend an undue amount of time in karaoke bars. My failure to inculcate this habit is undoubtedly due to the fact that my brother (of spit take fame) has a strict policy of only performing gangsta rap songs, which in this correspondent's humble view are ill-suited to his very, very white self.
Nevertheless, there is one song I always perform when dragged to a sing-along. That song is Prince's legendary "Purple Rain." My shtick is that I sing the verse in a ridiculous falsetto ("I never meant to cause you any sorrow / I never meant to cause you any pain"), but then when I arrive at the chorus ("Purple rain, purple rain) immediately descend to the deepest baritone permitted by my vocal cords. The transition from the first verse to chorus invariably gets a laugh, including from my brother who, although he's seen it innumerable times, tries to make me feel good so I won't visibly cringe when he does his inimitable version of Snoop Dogg's "Ain't No Fun (If The Homies Can't Have None)."
There is a tricky part to "Purple Rain." Between the second chorus and the third verse ("Honey I know, I know, I know times are changing") there is a pause. Early in my career as a Prince impersonator, I tended to milk that pause for as long as the karaoke background track would permit before exploding with screeches of "Honey I know, I know, I know"). Then, one evening out in Koreatown with friends from law school at a near-empty karaoke joint – so empty the young, attractive hostess had joined us and had her arm around one of my friends, while a woman who appeared to be her mother stared wistfully at my oblivious brother – I hit the pause and saw that my audience's attention was elsewhere. The momentum I have every time I emulate His Purpleness came to a screeching halt. Discouraged, I stopped.
There should be a "Pause at Your Own Risk" sign in karaoke bars. And that sign should also be hung at colleges and universities around the country.
***
A new study out of Florida State demonstrates that a major source of the persistence gap in higher education is pauses, or terms of non-enrollment. While it may seem tautological to report that failure to complete a degree program is strongly correlated to non-enrollment, consider that the study of 38,000 community college students in Texas revealed that 94% pressed pause on their studies at least once. Only about half ever restarted. So in understanding why community college completion rates are below 20% and why only 50% of students who commence programs at four year institutions ever complete, this is Exhibit A.
Of equal interest is the fact that a second pause pretty much spells education death. In the Florida State study, fewer than 5% of those who paused twice made it through. One pause may be a stop-out; two pauses equals drop-out. Despite the lovely shades of purple, the picture is not a pretty one.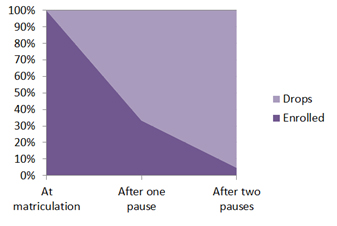 The saying "life gets in the way" is a common one in higher education, particularly at community colleges and other institutions that serve adult learners, who tend to enroll in part-time or accelerated programs. But this is an excuse we hear too often from our brethren in secondary education – poor outcomes are a result of factors beyond the classroom, and therefore beyond our control. Enter innovative school managers like KIPP and Harlem Children's Zone, which don't accept that life has to get in the way and are showing remarkable improvements in outcomes and graduation rates.
Likewise, innovators in higher education are deploying strategies to avoid the pause. One is to move students from part-time to full-time. A study from the National Student Clearinghouse Research Center showed six-year degree completion for part-time students at 20% vs. 75% for full-time students. Clearly, life gets in the way for part-time students. A study by Public Agenda found that drop-outs most frequently cited "juggling work and school" (54%) as the cause – much more than affordability (31%) or other factors (11% or lower). And Public Agenda found that 60% of community college students work at least 20 hours per week.
Groups like Complete College America have been focused on this issue, urging higher education institutions to provide incentives to move students from part-time to full-time. This accomplishes two things. First, students complete faster so there's "less life" to get in the way. Second, full-time students face fewer distractions. CUNY has pioneered such a program and provided a significant incentive for students: free tuition. CUNY's full-time Accelerated Study in Associate Programs (ASAP) is producing persistence rates that, in randomized controlled studies, are better by 50-100%.
While full-time is the optimal solution to avoiding the pause, going to school full-time isn't an option for students who need to continue working to support their families. For these students, we have three suggestions:
1. More Structure
While the best liberal traditions of higher education honor choice, many students would benefit from less choice. "Students are just radically confused by all the options," said Davis Jenkins of Columbia's Teachers College, as reported in the Wall Street Journal last week. And, according to Complete College America, with the average associates degree graduate earning 79 credits vs. the 60 they need, and the average bachelors graduate earning 136 (vs. 120), more options are resulting in more time for life to get in the way. The Wall Street Journal article cites the North Carolina Community College System (narrowing first year options from 77 to 32) and City Colleges of Chicago as examples of less choice and more structure.
2. Better Instructional Design
Walk into any college classroom and the set-up takes you right back to your days of Frisbee and a capella singing. The digital revolution notwithstanding, 98% of higher education courses continue to be "chalk and talk." And while flipping the classroom (i.e., before class students view recorded lecture and take formative assessment so classroom time can be used to address gaps) is a good start, it merely scratches the surface of what technology makes possible. In a recent post titled "Saving Universities in the Era of MOOCs," Ted Curran, an Instructional Designer at Samuel Merritt University, a leading health sciences institution in California, suggests a novel approach for every course: multimodal curriculum design via "a four-person team, with team members focusing expertly on the different skills it takes to produce excellent learning experiences." Ted's unbundled curriculum development process would marry the skills of content experts, instructional designers, multimedia producers, and interpersonal experts focused on engendering the highest possible interactivity from the learning experience. Reallocating resources to reengineer every first-year course in this way, particularly at community colleges, could dramatically increase persistence.
3. Job Guarantees
Surely one reason pauses become drops is the lack of certainty regarding improved job prospects and earnings. If I struggle and persist with the work/school juggle, is there any guarantee of a payoff? Or will I find myself continuing to work part-time at the same job?
As we've discussed previously, one solution is for colleges and universities to reach out directly and via intermediaries to employers and customize curricula and programs so that employers are willing to commit to hiring students who successfully complete the program. While examples of such programs are only now starting to emerge, we believe job guarantees will be significantly more motivating for at-risk students than the credential itself.
By pushing more students into full-time study and then adopting these three strategies for students who need to continue to go to school part-time, we have a shot at changing the paradigm from "life getting in the way of college" to "college getting in the way of life." And that would be something worth singing about.
University Ventures (UV) is the premier investment firm focused exclusively on the global higher education sector. UV pursues a differentiated strategy of 'innovation from within'. By partnering with top-tier universities and colleges, and then strategically directing private capital to develop programs of exceptional quality that address major economic and social needs, UV expects to set new standards for student outcomes and advance the development of the next generation of colleges and universities on a global scale.