On the 4th of July I turned on my living room TV in search of the France-Germany World Cup quarter final. To my surprise, Wimbledon was on ESPN while ESPN2 was showing a different sport altogether: the 2014 Nathan's Famous Hot Dog Eating Contest.
I'd heard of this annual event but never seen it before. The reigning seven-time champion Joey "Jaws" Chestnut was carried to the stage in a chariot. Nathan's coveted Mustard Belt was at stake and this year Jaws was going up against the world #2 competitive eater, 22-year-old Matt Stonie. Over the prior year, Stonie had pushed Joey to the limit, beating him for the deep-fried asparagus title in Stockton, CA and recently besting him in the Nugget World Rib Eating Championship in Sparks, NV, causing Joey to remark: "Stonie is making me work. I usually don't practice for ribs."
While the backstories were compelling, the contest itself was hard to watch. Bits of bun flew out of contestants' mouths as they downed dog after dog. It looked more like inhaling than eating and the pained look on Stonie's face made it appear as though the dogs might reverse course at any moment. Then there was the ESPN hyperbole: "The buns are the hard part, they're like the hills of the Pyrennes for Tour de France riders" – hyperbole further highlighted by denial: "I'm not given to hyperbole, but this is the greatest achievement in the history of man." At the end of 10 minutes, Joey's larger frame and technique – 2 dogs per bun and then catching up on the other bun – were too much for Stonie. Joey had downed 61 dogs to Stonie's 56.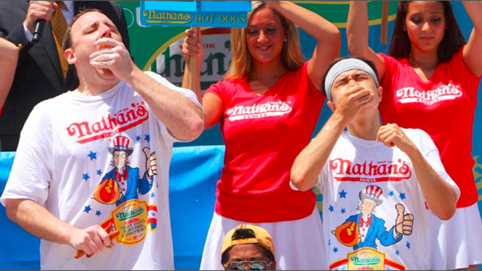 Joey vs. Stonie: It's all about DPM (Dogs Per Minute)
When I learned that Stonie is earning his degree in – get this – nutrition at Santa Clara's Mission College it whetted my appetite for thinking about the parallels to higher education. But, like Joey and Stonie, you may want take these with a grain (or pound) of salt:
1. Numbers going down
Joey's 61 (6.1 DPM) was way down from 2013 when he set the world record of 69. Although the commentators chalked it up to the rain ("The weather slowed everything down"), that explanation doesn't cut the mustard. Likewise, higher education numbers are going in the wrong direction. A report released last week by the National Student Clearinghouse Research Center revealed that the percentage of students who return for a second year of college has dropped 1.2% in the past five years. Currently only 68.7% of students make it to a second year compared to 69.9% back in 2009. Persistence was down between 2-3% at traditional public and not-for-profit institutions. At the same time, the annual NACUBO survey showed that the percentage of list tuition actually paid by students at private for-year colleges is lower than ever: 53.6%, down from 55.2% the year before. That's a discount rate of 46.4%. Then this week Moody's repeated its negative outlook for the entire higher education sector, largely based on projected tuition revenue declines. One in 10 colleges is suffering from what Moody's calls "acute financial distress" due to falling revenue and weak operating performance. In Joey and Stonie parlance, higher education is in a pickle.
2. Rules are unclear
The Nathan's Hot Dog Eating Contest struck me as rather inexact for a nationally televised sport. Contestants dipped buns in vats of water, making it easier to swallow (or drink) the buns. But it seemed pieces were left unconsumed. Counts were kept by cheerleaders holding up number boards, updated every few dogs or so (presumably correctly although it was hard to tell). Finally, I had to look up the rule on keeping the dogs down. According to Wikipedia, there was a controversy at the 2007 contest when Joey's predecessor as champion, Takeru Kobayashi seemed to have what is known on the competitive eating circuit as a "reversal of fortune" but was allowed to finish and declared the winner. The past few weeks have reminded us that the rules in higher education are also unclear. The demise of Corinthian Colleges was a result of a highly unorthodox decision by the Department of Education to place the company on heightened cash monitoring due to a delay in answering a request for information. This domino led a cash-starved Corinthian to the decision to teach out 12 campuses and sell the rest. A senior official in the Department told the Chronicle of Higher Education this week that "we did not know their cash position [and did not expect] that this would be the reaction to our action." The incident has spooked colleges and universities as it demonstrates that higher education's rule-maker and enforcer is one sandwich short of a picnic lunch.
3. And the prize is…
Colleges and universities compete for something more ethereal than the Mustard Belt: reputation. And while we think of reputation as an outcome, the fact is it's established and reified more through educational inputs (e.g., spending per student, the 4Rs – research, real estate, rah (sports) and rankings themselves) than esoteric, difficult-to-measure outputs of student learning. Outputs are as different from inputs as chalk and cheese. So while Joey walked off with the mustard belt on July 4, higher education has no mustard belt. Higher education is like a hot dog eating contest where the prize is more hot dogs.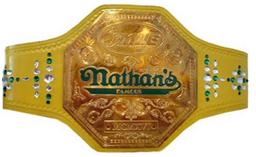 The Mustard Belt
4. Hyperbole clouds the truth
Is our system of higher education the best in the world? Or is it in crisis? The feeding frenzy of hyperbolic headlines obscures the truth, which is nuanced and not easily captured in a catch phrase. We lead world in diversity of students and institutions but measure our performance with inputs rather than outputs. We lead world in matriculation but are last in persistence and completion. Hyperbole hinders our ability to get at what's really going on and how to make material improvements. This is why I was so pleased to read Kevin Carey's thoughtful piece in the New York Times at the end of June – "Americans Think We have the World's Best Colleges. We Don't.". It made the point forcefully that our system of higher education is not all beer and skittles. Likewise, in the Nathan's contest, hyperbole clouds the truth, which is that this is probably not a sport. And if it is, it's still disgusting.
University Ventures (UV) is the premier investment firm focused exclusively on the global higher education sector. UV pursues a differentiated strategy of 'innovation from within'. By partnering with top-tier universities and colleges, and then strategically directing private capital to develop programs of exceptional quality that address major economic and social needs, UV is setting new standards for student outcomes and advancing the development of the next generation of colleges and universities on a global scale.