As the year comes to a close, we ask this question: What was the year's most important development in higher education? Few would nominate the November announcement by Bridgepoint Education that an agreement with Forbes Media would allow it to rename Ashford University's business school the Forbes School of Business. But in our view, this is a good bet. Because it could be as transformative for higher education as Walt Disney's opening of Disneyland was for the amusement business.
***
By 1940 there were an estimated 300 traveling carnivals in the U.S. This was the golden age of carnies and roustabouts who ran the games and booths and who'd pitch and tear down concessions and rides as the midways moved from town to town.
Surprise was the carnival's constant theme and attracted millions eager for distraction and amusement. (The term "carnival" is derived from the Latin, literally "to raise the flesh.") Of course, some surprises were more legitimate than others. Fairgoers enjoyed hanky-pank games (a 5-cent prize for each 50-cent play), "dark rides" like haunted houses, and often entered through an "Insanitarium" or funhouse where blasts of air sent skirts overhead and clowns would physically and verbally prod crowds along. Barkers would draw in paying customers to freak shows tents featuring "Zip the Pinhead," "Krao, the Missing Link," and Francisco Lentini, the "three-legged boy." Other midway attractions included flea circuses (not fleas, but rather miniature mechanisms for moving tiny wagons and swings) and nudist colonies (girls in the tent wearing skin-colored tights). Or watching a "geek" – the lowest guy on the carney totem pole – who'd perform repulsive acts like biting off the head of a chicken.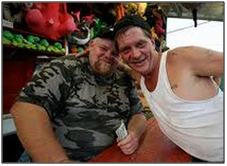 Carney friends forever
Carnies also orchestrated less savory surprises and originated the term "mark" – literally a big spender marked by carnies with powdered chalk on the shoulder or back so other carnies could partake. Hence my favorite carney phrase: "always leave the mark a dollar for gas" (so he can get home instead of being stuck at the carnival, getting angrier). Shills were carnies who pretended to be casual players and win big prizes in order to attract marks. One infamous carney surprise was the "key girl" act – selling a mark the key to the room of a female carney, the mark goes to the room only to find a "jealous boyfriend" who shakes down the mark for more money. Stunts like this characterized carnies in popular consciousness as much as their poor hygiene, which carnies blamed on hard work, long hours and limited bathroom accessibility.
***
Many of America's colleges also have limited bathroom accessibility. Back in the early 1990s, my roommate and I covered this at length in the second issue of our new campus publication where we parodied U.S. News & World Report's college rankings by ranking "Yale's Best Bathrooms." (Accessibility was the dispositive factor in the accompanying "Worst Bathrooms" ranking.)
But there are other similarities between carney and culture at some colleges. Surprise! Tuition dollars are subsidizing activities like big-time athletics that aren't producing much of a return for students. Or surprise! Degrees aren't helping graduates get the job they want, or really any job. Or how about: Surprise! The courses students need to complete their programs aren't available. I'm not suggesting that any colleges are intentionally trying to fleece students. But surprising outcomes abound in both environments.
***
Walt Disney was already one of America's most successful entertainment entrepreneurs when he saw the opportunity to send carnies to the showers. The Disney brand was already recognized from his films and the world's first theme park, Disneyland, featured "book report rides" – literally a retelling of the films – when it opened in 1955. In so doing, he imposed a new order on carney chaos and replaced carnival surprises with theme park delights – particularly for families with young children, a rather promising market in the postwar era. Most visitors already knew the characters, stories, songs and the Disney brand promise; Cinderella had greater universal appeal than carney surprise. And the overall effect was much higher quality.
Today, carney culture is gone and theme parks dominate the amusement industry, generating nearly $14B in revenue each year, of which Disney has 80% market share. One of Disney's most ambitious projects of the past few years the revitalization of Disneyland's underperforming companion park: Disney's California Adventure. Opened in 2001 with attractions inspired by California's culture and geography, the park has now received injections from powerful Disney franchises: Cars Land and new attractions based on Toy Story and The Little Mermaid. Universal, #2 in the theme park market, also builds attractions from known entertainment brands, licensing from films like Transformers, Jurassic Park and Spider-Man. The newest seminal development in the industry is the opening of Universal Orlando's Harry Potter Land. A $265M recreation of J.K. Rowling's world complete with Hogwarts Castle, the Dragon Challenge, Hippogriff rides, and authentic butterbeer, Potter Land boosted Universal Orlando attendance by 40%. Potter Lands are now being planned for Universal parks in L.A. and Japan, and a second park for Orlando. Not to be outdone, Disney is reorganizing its Orlando Animal Kingdom park around the film Avatar. Surprise has been replaced by delight.
A similar thing has happened to the carnival's kissing cousin, the circus business. Today, Quebec's odd- but-less-tawdry-than-traditional-circuses Cirque du Soleil has nearly 50% of the circus market, over 40M people have been delighted by great Cirque shows, and it seems like you're not a bona fide Las Vegas casino without your own Cirque show. Old circus acts like lion tamers and sword swallowers have had to switch careers, perhaps heading back to college.
***
Disney killed the carnies. Cirque du Soleil killed the clowns. Could the same thing happen to colleges that provide their students with more surprise than quality?
Brands play an increasingly important role in our economy. They provide consumers with instant recognition and allow products to stand out in a crowded marketplace. But their most important role is to provide customers with shorthand information about the value proposition. Product quality and the customer experience are encoded in the brand and its brand promise. That's why the top brands in higher education are Harvard and Yale. They stand at the apex of quality in higher education, and their brands reflect that luster. It's no coincidence that Apple is not only the world's most valuable company, but also the world's most valuable brand.
Just as the Disney brand and the brands of its film properties resonated strongly in the amusement market, Bridgepoint's announcement may augur the same for higher education. For in a world where universities take centuries to establish themselves and their brands, there are myriad brands that currently have nothing to do with higher education but that could be very useful for higher education institutions interested in developing high quality programs that produce higher ROI for students and that clearly communicate those values to the marketplace. These brands could provide prospective students with shorthand information about the value proposition in a market where prospective students are crying out for better information about the likely return on their investment in a degree program.
If higher education institutions can not only work with brand-owners to license their brands and proven value-laden content, but also ensure that the resulting branded programs meet and exceed the original brand promise in terms of student outcomes and return on investment, then arrangements like Bridgepoint's will be transformative. That's exactly what Uncle Walt did. He took an industry known more for workers who were intoxicated or missing teeth and created a paradigm of customer service that has a thriving business training other companies and organizations to delight customers.
The devil is in the details. Translating the original brand promise to the higher education context isn't a science and requires trust and a strong working relationship between the brand owner and the college or university, not to mention a shared commitment to innovative quality. If higher education institutions are able to navigate this – likely with the assistance of an intermediary – students will give them high marks (which is preferable to treating students like "marks"). Then this won't be a a Mickey Mouse Move. It will be a Mighty Mouse Move. But without this – if the relationship with the brand owner isn't focused on ensuring the student experience meets the brand promise – it won't be Cirque du Soleil. It will be Cirque du So-Lame.
Have a happy and wonderful holiday season.
Thanks to Monique Salvador for her assistance with this Letter. She now knows more about carnies than she wanted to.
University Ventures (UV) is the premier investment firm focused exclusively on the global higher education sector. UV pursues a differentiated strategy of 'innovation from within'. By partnering with top-tier universities and colleges, and then strategically directing private capital to develop programs of exceptional quality that address major economic and social needs, UV expects to set new standards for student outcomes and advance the development of the next generation of colleges and universities on a global scale.