My favorite movie about education isn't The Paper Chase or High School High or even Larry Crowne, Tom Hanks' love letter to the California Community Colleges System, but rather Real Genius. A 1985 film about a group of prodigy misfits at "Pacific Tech," a loosely disguised Cal Tech, Real Genius chronicles the antics of senior physics legend Chris Knight (played by Val Kilmer), now a disillusioned slacker who turns his dorm into a skating rink, rigs an elaborate set of mirrors so a laser beam will guide the way to a South Pacific-themed pool party with beauticians, and pulls other pranks and "diversions in an attempt to avoid responsibility." Enter freshman ingénue Mitch Taylor, the new brain in town, who has been assigned to room with Chris and a mysterious third genius: a former student turned middle-age man named Lazlo Hollyfield who lives in the closet along with his mechanized system for filling out sweepstakes applications.
As Chris and Mitch reach a happy medium work ethic, and as Mitch falls in love with Jordan – a wondrous hyperkinetic girl who never sleeps, makes scuba equipment, and knits Mitch a sweater ("I have a brother and I use him for a sizing comparison and I have a pretty good eye for that sort of thing so I just went ahead and made you one because you know I was up I never sleep I had a roommate and I drove her nuts I mean really nuts") – Real Genius evolves into a battle against faculty member Jerry Hathaway, who has been commissioned by the CIA to develop a space-based laser weapon, and Kent, Hathaway's grad student.
Hathaway pressures Chris to solve his power problem (Hathaway: "I want to start seeing a lot more of you in the lab" Chris: "Fine, I'll gain weight") and threatens to keep Chris from graduating. Hathaway seeks legitimacy from his overseers at the CIA in much the same way sycophant Kent seeks legitimacy from Hathaway: picking up his dry cleaning. In the meantime, Chris and Mitch come up with an imaginative solution for the power problem and celebrate until Lazlo tells them they've created a weapon. In response, they pull a heroic prank: filling Hathaway's new home (built with misappropriated CIA funds) with popcorn kernels and using the laser to create the world's largest popcorn popper.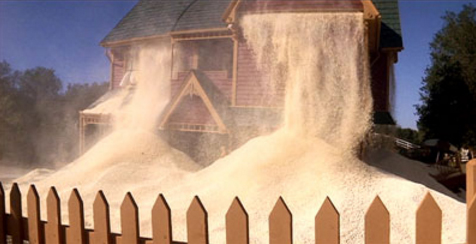 As many of us prepare to pop over to Salt Lake City for the 2017 ASU + GSV Summit, Real Genius crystalizes where private sector activity in education has been, and where it's going. Last week's announcement that Kaplan will sell its 32,000 student university to Purdue University for $1 + a 30-year services agreement (which Purdue can buy out after six years) demonstrates conclusively that investors and entrepreneurs in higher education have moved beyond seeking legitimacy (à la Hathaway and Kent) to the imaginative problem solving demonstrated by Real Geniuses.
***
Media coverage of the Kaplan sale ran the gamut from admiration to balanced to blanket indictments of capitalism itself ("For-profit executives engage in shady money-making behavior because they know that corporate liability laws limit the downside cost, while the potential upside is huge.") But what largely escaped notice is the fact that Don Graham – perhaps the most respected individual in education's private sector – has decided he no longer needs to own an accredited university to have a successful higher education business.
Starting in the 1990s, following the example of University of Phoenix, many investors bet on for-profit accredited universities. Companies like Career Education and EDMC attracted institutional investment to fund acquisitions or growth of accredited universities. Don Graham followed suit in 2000, buying Quest Education Corporation and changing the name to Kaplan College. Like all other investors at the time, Graham was familiar with one model for higher education (he attended Harvard) and bought a business that owned accredited colleges that granted the very same credentials (degrees). It all seemed extremely legitimate. We know what excellence in higher education looks like (i.e., a traditional university), so let's do that. The difference, of course, was accessibility: Quest's schools were much more convenient for working adults than traditional universities.
But while accessibility was a real problem for millions of students in the late 1990s, solving accessibility and combining it with open enrollment, federal financial aid, and state-of-the-art lead generation and enrollment techniques led to the for-profit university boom of the aughts and the bust of the teens.
Nearly 20 years later, it saddens me that the for-profit university – at its core, a failure of imagination – remains the public face of private sector involvement in higher education. In 2017, the last thing higher education needs is another online or accelerated plain vanilla degree program from a university no one's ever heard of, and particularly one that churns and burns students. Providing access to degrees is no longer a problem that needs to be solved. (Many now argue – as I have – that easy access to degrees has become a problem in and of itself.) In hindsight, the private sector's extended effort to replicate the form, function and output of traditional universities seems more a misguided quest for educational legitimacy than a real attempt to solve the many problems currently facing the education and workforce markets.
***
So as we gather in the Beehive State next week, it's important that all stakeholders in higher education – including publics and non-profits – recognize the scope of the challenges ahead, and acknowledge that the private sector is best positioned to address many of them in a way that delivers better value than the status quo to students and their families, and to talent-thirsty employers.
Far from engaging in "shady money-making behavior," here are ten critical problems that the private sector – the engine of the world's greatest economy – is in the process of solving in partnership with thousands of colleges, universities and other postsecondary providers.
1. Do A Better Job Of Matching Students To Schools
Whether though mentorship for students or applying AI technology to the admissions function, help students and schools make the right match and improve outcomes.
2. Improve Learning By Killing The Lecture
Use technology to effect information transfer ahead of class and implement a dynamic classroom model, reserving classroom time for active learning.
3. Meet Students Where They Live: On Their Phones
Because the current "labyrinth of overlapping websites, services, and apps" encountered on campus is inconsistent with Millennial and especially Gen Z expectations, improve student outcomes via an integrated mobile app.
4. Make Sure Students Graduate
A range of innovative technology-based products and services – many of them turnkey – now allow colleges and universities to help keep life from getting in the way.
5. Make Sure The Students Who Graduate Are The Students Who Did The Work
Given the time and cost involved, not to mention increasing questions about the value of traditional higher education credentials, colleges and universities need to lock down student identity, and ensure assessments are valid.
6. Make Sure Students Graduate With The Technical Skills They Need To Get Good Jobs
A plethora of last-mile training providers across a range of industries are helping graduates gain the technical skills that are now required across virtually all entry-level jobs.
7. Partner With Last-Mile Training Providers That Hire Your Graduates
Some last-mile training providers are so certain of the skills they're imparting, they're hiring graduates themselves and staffing them out to employers – providing pathways to not only the first, but also the second job (when clients convert to full-time employees).
8. If You Build The Competency Marketplace, They Will Come
Help young Americans explore their passions, reveal and document skills, and connect them to jobs, which has become the overwhelming priority for students investing substantial time and resources in formal postsecondary education.
9. Capture And Analyze Data To Improve Value To Students
Every student click represents valuable data – whether on a mobile app, a learning management system, or in response to a survey. There's no reason why the best institutions of tomorrow won't be those institutions that do the best job today of analyzing that data, developing and testing new hypotheses, and rolling out new initiatives to improve ROI for students.
10. Revolution In Student Financing
The crisis of college affordability is forcing more students and their families to rely on high-cost PLUS and private loans, resulting in highly negative outcomes for perhaps 25% of graduates (and especially those who can least afford it). New data-driven providers are underwriting students not based on the wealth of their families, but rather on predicted future earnings in the form of loans and increasingly income share agreements.
Solving any one of these real problems would be worth a dozen unimaginative for-profit universities; it would be genius. Solving all of these problems? That will require the Real Genius of the private sector.
UV looks forward to seeing you in Salt Lake City.