'Til the one day when the lady met this fellow…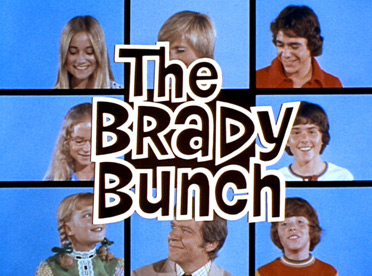 I heard a random fact recently that made me think: it was 40 years ago that The Brady Bunch ended its five-season run of original episodes on ABC. This meant that I, like many others who remember the Brady kids as a mainstay of childhood, never saw the show during its original run given that I was 3-4 years old.
Of course, the reason we can sing the theme song from memory and that we'll never forget the iconic opening-credits shot of the family – with Alice the housekeeper – in their signature three-by-three grid, is syndication. Starting in 1975 and continuing to this day on TVLand, The Brady Bunch has never left our airwaves.
As campy as the show could be – Davey Jones taking Marsha to the school dance, Joe Namath visiting Bobby because he thought he had a terminal illness – it was also groundbreaking. Never before had network television featured a blended family – two single parents who come together and "must somehow form a family." It reflected the changes occurring in American society.
Interestingly, as well, the show didn't shy away from addressing the issue of blended families head on. In an early episode, Carol tells Bobby that the only "steps" in their household lead to the second floor (in other words, that the family contains no stepchildren, only children). Yes, The Brady Bunch had a message.
***
As CEO of 2U, I often invoke the opening-credits image of the Brady family in their three-by-three grid to help people visualize how 2U's live-class online platform works. (Cindy looking up at Greg, Marsha looking down at Jan – you get the idea.) But the more I talk about Brady, I've come to realize that metaphor extends beyond the visual similarity to 2U's platform. Just as Carol Brady declared there were no steps in the Brady family, there should be no steps in higher education. Universities shouldn't care whether students are on campus or online. They're all students. Today's digital technology permits us to end the segregation between on-campus and online degrees.
Some non-elite universities already take this approach. But what of our top institutions that set the standard for higher education in the U.S. and globally? It's understandably difficult for a university to think like a Brady when its on-campus experience is unquestionably rich, immersive and highly valued, and where there are many applicants for each available seat. What's even harder is that we're used to digital delivery democratizing products, making them more accessible (think massive, open), and therefore less exclusive.
So when massive open online courses (MOOCs) came around, it was natural for top universities to treat online students as stepchildren. University Ventures was one of the first MOOC skeptics (see their UV Letter from February 2012 and their subsequent comparison of MOOCs with the Spice Girls ), and 2U was equally puzzled at the attention these courses initially received. Despite the mania, no one ever argued that taking a MOOC was equivalent to attending Stanford on-campus, let alone earning a Stanford degree (least of all Stanford, which made clear that stepchildren who completed the very first MOOC wouldn't even receive a certificate – only a letter from the professor).
But the Brady ideal is well within our grasp. Several service providers now help top-tier universities offer online degree programs. In 2U's programs, as in others, students face the same admissions criteria as their on-campus counterparts and take the same classes with the same faculty.
As it's still very early in the evolution of online education, there's another Brady element that is proving helpful in allowing elite institutions to take the step of removing steps. Inspired by the blended Brady family, top universities should blend online delivery with intensive, immersive on-ground sessions. In blended programs, students come into physical contact with university faculty. Even if this contact is relatively brief, it makes it easier for every constituency within the institution to treat all students equally.
Of course, doing this requires that universities extract the curricular elements that are best executed on-ground, and then schedule on-ground sessions so students can and benefit from the engaging curriculum as well as networking opportunities. It probably also means greater engagement with employers. But the additional complexity is well worth it for students.
It will prove to be equally worthwhile for universities as these programs begin to attract international students. (When it comes to elite institutions, depending on the ranking, the U.S. has between 50 and 70% of the world's top 100 universities.) Outside the U.S., online programs are still viewed as indistinguishable from correspondence courses, which carry with them a sense of low value (and therefore only command a very low price). But programs that blend online with immersive onground sessions can be effectively differentiated. Which means they can command a higher price point. Which means it's possible to afford the quality expected of elite universities.
***
I'll close with an anecdote from the first graduating class from the MBA@UNC online program that 2U enables with the Kenan-Flagler School at the University of North Carolina at Chapel Hill which shows how top universities benefit when they finally do away with steps.
The first class consisted of students from a variety of backgrounds and wide range of geographies. They met and formed relationships online, beginning with live online classes in a Brady Bunch-style grid. Then they met in person in the immersive on-ground sessions that we call global immersions.
While these students never attended classes in Chapel Hill, they became enthusiastic about the university and their fellow graduates. They didn't consider themselves stepchildren. They were Tarheels and real members of the Carolina family, just as much as anyone who attended the university on campus, and they wanted to leave their mark.
After graduation, they came together and donated the single largest class gift in Kenan-Flagler's history to have a conference room in the business school in Chapel Hill named after their group. These were online students, who gave the largest gift in school history in order to leave their physical mark on campus. That's what I call a blended family! And it's only possible once the steps are removed.
Happy holidays from everyone at 2U and at University Ventures.
University Ventures (UV) is the premier investment firm focused exclusively on the global higher education sector. UV pursues a differentiated strategy of 'innovation from within'. By partnering with top-tier universities and colleges, and then strategically directing private capital to develop programs of exceptional quality that address major economic and social needs, UV is setting new standards for student outcomes and advancing the development of the next generation of colleges and universities on a global scale.