Throughout my childhood, David Letterman was a spectral gap-toothed presence. As my bedtime was long before Late Night with David Letterman aired on NBC at 12:30 a.m., I had only a vague sense of his antics like tossing watermelons off New York buildings. In the pre-DVR era, actual glimpses of the World's Most Dangerous Band were few and far between.
So I was delighted to come across Letterman: The Last Giant of Late Night, a new book by Jason Zinoman, comedy critic for The New York Times. Zinoman not only chronicles Letterman's rise and the origins of Stupid Pet Tricks and Top 10 Lists, he provides details on the great Late Night shows from the 1980s that most of us never saw, such as:
In its second week on the air, starting an episode at Letterman's desk, but instead of the host, "in his place was a dog sipping a glass of milk, which went on for a full minute."
A contest between a humidifier and a dehumidifier that Letterman called "the single most brilliant idea on the show ever."
During a writers' strike, stating he would entertain America by making toast on the air (using a toaster gifted to him by GE, then parent company of NBC).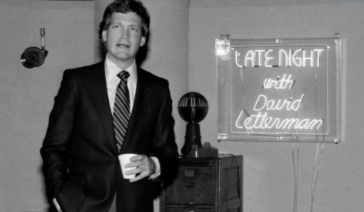 As a proper critic, Zinoman locates the genius of Letterman's early years not only in his ironic sensibility, but specifically in his awareness of the TV screen itself. For example:
Early on, Letterman rolled a TV onstage to see what was on other channels.
Launch of Thrill-Cam, which shook and added horror movie sounds.
Culminating in the Monkey-Cam "in which a camera was strapped to the back of a trained chimpanzee that hopped around the studio while Letterman tried to talk to the radio host and sex therapist Dr. Ruth Westheimer."
Finally a show in which the camera was rotated over the course of an hour so the screen was upside down halfway through. "At the midway point, when the image was inverted, Letterman introduced Larry "Bud" Melman dressed in a jacket and tails and dancing, to make it look as though he was dancing on the ceiling."
It's fair to say that David Letterman was the first star of the screen to make the screen the subject.
***
When it comes to thinking about how best to get young people from Point A (high school) to Point B (good entry-level jobs in growing sectors of the economy) – the problem colleges and universities should be solving, and on which U.S. consumers, governments and employers are spending well over $500B each year – any discussion is incomplete unless screens are the subject. Screens must be the subject because they're increasingly the foundation of entry-level jobs.
Over the past decade or so, employers across virtually all industries have digitized their business functions and processes. Today, most businesses utilize software – and increasingly SaaS platforms – to manage functions like supply chain, sales, marketing, customer service, finance, IT and HR. So the biggest change in the entry-level workforce over the past decade is that many more jobs are mediated primarily if not entirely by these software platforms.
This means two things, both highly relevant for higher education. First, entry-level jobs require mastery of specific SaaS platforms like Salesforce (sales), Pardot (marketing), Marketo (digital marketing), Google Adwords (digital marketing), ZenDesk Plus (customer service), NetSuite (finance), Financial Force (finance), and Workday (HR). According to Burning Glass, jobs demanding Salesforce skills have quadrupled in the past five years; last year, over 300,000 open positions called for Salesforce skills. In addition to these cross-sector SaaS platforms, every industry has its own SaaS platforms for specific functions. For example, insurance companies and third party claims administrators have a range of SaaS options for claims processing. And all these platforms are increasingly likely to be mentioned in job descriptions; candidates without these platforms on their resumes are less likely to be visible to hiring managers. The failure of traditional colleges and universities to incorporate these platforms into existing curricula has contributed to pervasive Millennial underemployment and necessitated the emergence of last-mile training providers.
Second, the structure imposed by these platforms tends to define and even restrict the span of responsibility and decision making compared to the more general and freewheeling entry-level jobs of 10+ years ago. According to Bob LaBombard, retired CEO of GradStaff and entry-level career thought leader, "When I started in sales, I was the CRM. I decided who to call on, how often, when to drop a prospect and when to add new leads. I knew my contact list inside and out. Much of this is automated now. These systems tend to discourage independent thinking. You have more leads, but much less familiarity and ownership. You just call the next lead scheduled by the system."
Now this is surely not the case for all entry-level jobs. Entry-level jobs in some of the largest job categories – nursing, teaching, social workers, even software developers and engineers – continue to require as many cognitive and non-cognitive skills as they ever have (and probably more). But an analysis of Bureau of Labor Statistics data of the top 30 jobs demonstrates that nearly half of all jobs could be at risk of SaaS mediation and restricted decision making. If that's true for all jobs, it's likely that more than half of entry-level jobs could fall into this category. Moreover, according to Burning Glass, roughly 80% of middle-skill jobs (i.e., jobs that shouldn't require college degrees, but often do) are now digitally intensive.
I call these jobs Vocational 2.0. Driven by persistent degree inflation over the past several decades, these middle-skill jobs that call for advanced digital skills (which Burning Glass defines as "more sophisticated than spreadsheets or word processing, but not as specialized as programming") have become the new entry level for most college grads. While Vocational 2.0 are far from dead-end jobs and don't involve risking life or limb or even getting one's hands dirty, these first digital jobs don't require the level of numerical reasoning, critical thinking, creative thinking, or problem solving skills that the higher education establishment thinks they do. And contrary to conventional wisdom, candidates with mid-to-high levels of motivation and aptitude don't actually require four years of formal education beyond high school to do these first jobs well; by putting a greater focus on SaaS platforms themselves and less on hard-to-measure cognitive skills, they'll require less – perhaps by an order of magnitude.
***
No employer gets excited about the prospect of hiring less skilled workers. Aren't skills and education an unmitigated good? Sure, but so is safety. And as I've noted previously, it's possible to take the drive for safety too far (e.g., fear of terrorism, people who look different, immigrants, ill-advised travel bans). Similarly, the higher-education-industrial-complex's drive for skills – manifested most prominently in college degree requirements for virtually all entry-level jobs – has had two major unintended side effects: (1) half the workforce degree-less and virtually shut out of good jobs, feeling like the system is rigged; and (2) $1.4 trillion and counting in student loan debt, crimping the lives and prospects of millions of young Americans.
Keeping with the SaaS theme, it didn't take long for enterprises – including colleges and universities – to acclimate to buying exactly the software functionality they need when they need it (in stark contrast to the massive enterprise software deployments of the 90s and 00s that included a great deal of functionality they didn't need and massive expense). SaaS products are much more efficient.
Over the next decade we'll see the same revolution in talent management: employers hiring the skills they need when they need them (e.g., hiring middle skill candidates with advanced digital skills into Vocational 2.0 jobs); and employees obtaining the skills they need when they need them (e.g., seeking an appropriate level of additional postsecondary education to move from a Vocational 2.0 first job to a higher level position).
Employers may see a number of benefits. It's possible that better-fit employees will perform better. It's also possible that new faster + cheaper pathways will attract higher aptitude and more motivated students who will not only be a better fit, but actually higher skill. It's probable that better-fit employees will churn less. And it's certain that if the postsecondary education required for the job costs less, employers will be able to pay less.
This demand for greater efficiency on the talent demand side will be met by a growing realization that, on the talent supply side, we are setting the bar too high for many good first jobs – Vocational 2.0 jobs – and this high bar is having deleterious effects for millions of our fellow citizens. The resulting rush to a greater diversity of postsecondary credentials and pathways to jobs will have profound implications for higher education; a new set of providers is already answering the call while traditional colleges and universities are asleep at the switch.
Although colleges and universities are already struggling with a wide array of challenges, they may soon find themselves parroting David Letterman, who in the midst of ticking through the list of guests, features and expected problems on the night's show, would often stop short and say: "And if that's not enough… and, by gosh, don't you think it ought to be?"