"The intensity of gambling reinforced by the presence of the desert all around the town. The air-conditioned freshness of the gaming rooms, as against the radiant heat outside… Night of gambling sunlit on all sides." - Jean Baudrillard
The comedian Steven Wright liked to tell this story about Las Vegas: "In Vegas, I got into a long argument with the man at the roulette wheel over what I considered to be an odd number." But you're unlikely to find any argument that Vegas, as Baudrillard suggested, is a city of extremes. Light and dark. Hot and cold. Boom and bust. Now it appears The Strip is following the same pattern: high-end properties and low-end properties, with little midtier in between. If Las Vegas is where America goes to misbehave, the market for misbehavior appears to be dividing neatly into expensive and inexpensive misbehavior. The market for mid-priced misbehavior is drying up.
Which is a shame. Because I have fond memories of mid-priced misbehavior. Like the time at Harrah's my friend wore a bathrobe onto the casino floor and sat down at a blackjack table. (He was looking for the pool, he said, as he was escorted out.) Or the time a lawyer friend succeeded in emptying the Mirage hot tub of a half-dozen literature professors attending an MLA conference by attempting to engage them with a 10th-grade-level critical analysis of Catcher in the Rye. Or the time my associates convinced the personnel at the craps table at the Flamingo that I was an accountant working in compliance for the Flamingo, there to keep them and their employer out of trouble. (Come to think of it, that happens to me a lot – being mistaken for an accountant.)
Ah, the Flamingo. Home of the Donny and Marie show. Now too old to perform every day, Donny and Marie alternate showroom dates with Olivia Newton-John. The Flamingo: the oldest hotel still operating on The Strip (opened 1946) and the epitome of midtier, where the plumbing seems to be wearing out.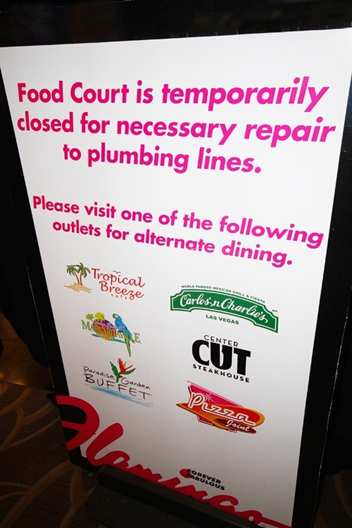 The Flamingo, which inspired the following comment on vegaschatter.com:
After our recent stay at The Flamingo, we received a survey inquiring about our stay, which was nice. You know, besides seeing the masseuse taking her massage pillow for a trip to the restroom.
So while the high-end of The Strip (Wynn, Encore, Aria) is thriving, and the low-end (Excalibur, Luxor, Circus Circus) continues to do just fine, the air is coming out of the middle of the market.
***
This hollowing out is not staying in Vegas. It's everywhere. In retail, Sears and JC Penney are teetering. Loehmann's, a New York institution, is going out of business, to be replaced by Barneys. Meanwhile, dollar stores are thriving. In dining, Olive Garden and Red Lobster are struggling. Foot traffic at midtier casual dining chains has dropped in every quarter but one since 2005. According to John Maxwell, head of the global retail and consumer practice at PricewaterhouseCoopers, quoted in The New York Times in early February, clients are focusing on high-end products and services, or rock-bottom prices: "As a retailer or restaurant chain, if you're not at the really high level or the low level, that's a tough place to be. You don't want to be stuck in the middle."
Whereas new fast casual chains like Chipotle or Shake Shack don't pretend to be fancy, sit-down restaurants, Olive Garden and Red Lobster have the accoutrements of good restaurants. The problem, of course, is quality, as this slide from an activist hedge fund suggests: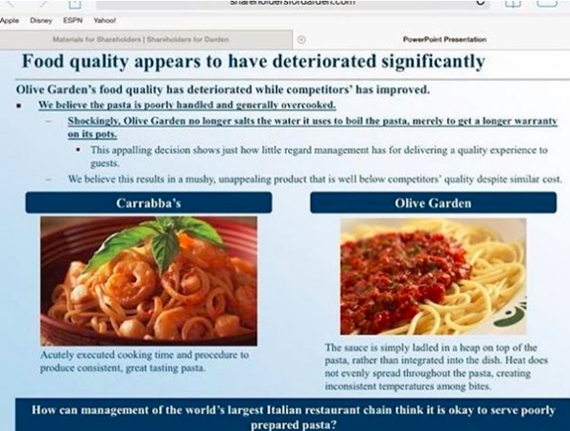 Of course, deterioration implies the food was actually better at one time. Be that as it may, the hedge fund was ultimately successful in replacing the board of parent company Darden Restaurants.
***
The same argument applies to many midtier universities. They have all the accoutrements of excellent universities – as per isomorphism, arguably the most pernicious phenomenon in American higher education – but little of the quality.
Midtier universities are struggling more than ever. In a survey of 368 small private colleges and midsize state universities, 43% failed to meet their 2014-15 budget for both freshman enrollment and net tuition revenue. Even more shocking, approximately half of institutions that claimed to hit budget were reporting against downward-revised budget numbers. (About 40% of institutions that revised their numbers downward did so more than once.) In addition, a quarter of public colleges and nearly half of private institutions had to raise their discount rate at the same time – some by more than 10%.
As with Vegas casinos, retailers and restaurants, the middle of the higher education market is being hollowed out from both sides. The current market looks something like this: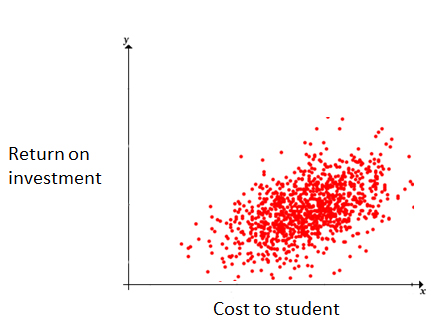 The vast majority of institutions are somewhere in the middle – providing a mediocre return for $10,000 - $20,000 per year. But many of these institutions will go the way of The Flamingo and Olive Garden. So we're heading for a higher education sector that looks more like this: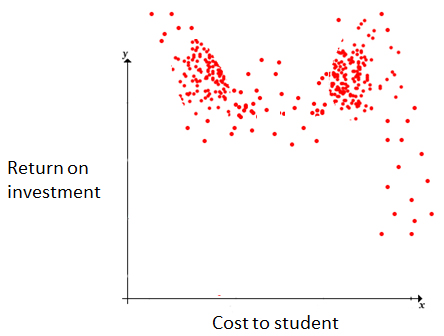 In order to secure their future, midtier universities need to decide what they want to be when they grow up. If they're in the business of providing basic degree programs – where value to the student accrues primarily as a result of the degree itself – they will go in one direction. If they intend to provide premium, high-return on investment programs to build significant human capital, they will go in another. What they cannot do – if they wish to survive – is to stand still.
There will be fewer institutions. And the survivors are likely to be either low-cost or premium-priced institutions. Either way, their offerings will provide a higher ROI than the current mean. While low-cost institutions are likely to deliver their programs primarily online, premium programs will utilize technology for some delivery, but focus on offering immersive, intensive, employer-focused and facing experiences for students. It's conceivable that the only remaining institutions with a (lower) ROI profile characteristic of today's market will be elite universities.
***
Like The Flamingo and Olive Garden, the decline of the midtier university is a result of a more fundamental trend involving the hollowing out of middle class. The percentage of U.S. households in the middle class has declined by as much as 20% in the past 40 years; the only reason it hasn't shrunk more is an increase in retired households living off social security and pension benefits that put their income squarely in the middle class category.
But unlike The Flamingo and Olive Garden, universities share some blame for the great hollowing out. In the last decade, the percentage of students from families at the highest income levels who earned a bachelor's degree has grown to 82 percent while for students from the lowest income levels it has fallen to just 8 percent. Colleges and universities are failing to live up to their end of the social bargain that got states into the business of funding higher education in the first place.
There are two levels of shame here. The first is systemic, stemming from the unique level of heterogeneity across our colleges and universities (far outpacing that of any other country). Research over the past decade has demonstrated that state policies to sustain heterogeneous systems are increasing social inequality as students are matched to institutions based on their level of preparation. The second is poor retention and completion at the non-elite institutions at which lower income students matriculate. Segmenting enrolled students by family income, approximately 99% of the very wealthiest students complete their degree program (way up from a generation ago), but only just over 20% of the poorest students complete (no improvement).
What was once America's engine of social mobility has gone into reverse. Which, of course, is obscene. Too obscene, even, for Las Vegas.
University Ventures (UV) is the premier investment firm focused exclusively on the global higher education sector. UV pursues a differentiated strategy of 'innovation from within'. By partnering with top-tier universities and colleges, and then strategically directing private capital to develop programs of exceptional quality that address major economic and social needs, UV is setting new standards for student outcomes and advancing the development of the next generation of colleges and universities on a global scale.