Sarah Koenig: It seems absurd. It's between 3:45 and 3:50 in their world. And if I'm Adnan, I'm freaking out that I need to get back to track to have an alibi…

[LONG PAUSE]

Dana Chivvis: There's a shrimp sale at the crab crib.

Sarah Koenig: Sometimes I think Dana isn't listening to me.

&nbsp &nbsp &nbsp - Serial Podcast, Episode 5 (Route Talk)
If you missed Serial, the first podcast that was a legitimate media phenomenon (downloaded more than 20M times), perhaps it's because you're not a Millennial. Called by some commentators a perfect answer to the entertainment needs of the Millennial generation, Serial reports on the 1999 murder of Maryland 18-year-old Hae Min Lee, and the subsequent trial and conviction of her ex-boyfriend Adnan Syed.
What's remarkable about Serial is not the true crime story. You've heard that before. What's different is that Serial chronicles the producers' investigation in real time. Their uncertainty is laid bare, and the audience is invited into the discovery process to the extent that the last few episodes are centered around real-time updates from 1999 protagonists whose voices were missing from the story until they heard about Serial and contacted the producers (including everyone's favorite, "Don from Lenscrafters," the victim's boyfriend). So Serial not only made its process transparent to the audience – as evidenced by the random "shrimp sale at the crab crib" line from episode 5, which quickly became an Internet meme. It also wholeheartedly invited the audience to participate and craft the product.
This approach pushes all the right buttons for Millennials. Just ask Chipotle Mexican Grill, the great restaurant success story of the past decade (stock price up 15x since its public offering nine years ago), largely due to its appeal to millennials. In its landmark Internet ad/short film titled "The Scarecrow," Chipotle contrasts the dark, overcast, evil world of industrial, unsustainable processed food production where chickens are injected behind closed doors and cows – identified only by a number – are hooked up to machines in dark rooms, with a hopeful (Chipotle) alternative: the scarecrow picks beautiful vegetables (as the sun comes out), and then chops, cooks and serves up perfect vegetable tacos that attract the attention of a child. As the film ends, the scarecrow serves the tacos to the child. The message is clear: at Chipotle, the process is transparent and wholesome, and the customer is the most important part.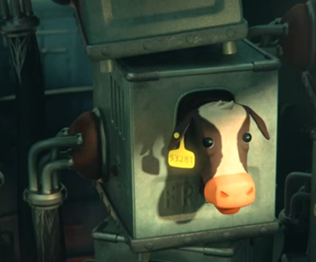 Unsustainable production.
***
Colleges and universities should pay attention to Serial and The Scarecrow. After all, Millennials – the 80 million Americans born between 1980 and 2000 (now ages 15-35) – constitute over 80% of higher education's customer base. Millennials care a lot more about process – is it transparent, and are they an integral part, able to influence the outcome? – than they do, say, about whether a provider is for-profit or not-for-profit.
This is why a December 19 letter from Senator Dick Durbin (D-IL) to David Hawn, CEO of ECMC Group, the organization acquiring the non-California institutions from Corinthian Colleges, struck me as terribly anachronistic. The letter is full of references to (bad) for-profits and (good) not-for-profits. The Senator is glad that a (good) not-for-profit is acquiring Corinthian (as opposed to throwing students "to the wolves again by allowing another for-profit company to acquire the campuses"). But the point of the letter is that the Senator is unhappy about continuing to include mandatory arbitration provisions in enrollment agreements, a "common tactic in the for-profit playbook." The letter concludes: "If ECMC wants to truly be a not-for-profit institution of higher education, it should follow the clear model of non-profit education."
I don't have a fully formed opinion on the merits of mandatory arbitration provisions in enrollment agreements. But I do know that Senator's reasoning doesn't reflect what his constituents care about. Chipotle is for-profit, but Millennials flock to it. Coding schools like General Assembly and Galvanize are for-profit, but far better reflect Millennial values than traditional not-for-profit institutions where processes – for example, to determine the net price (via financial aid, particularly merit-based aid) – could hardly be more opaque and where students feel powerless to influence the outcome.
***
One of the risks of appealing to Millennials is that there will be some loose ends. Serial was criticized for a wishy-washy finale (Sarah Koenig: "As a juror, I have to acquit Adnan Syed… [But] as a human being?... If you ask me to swear that Adnan Syed is innocent, I couldn't do it. I nurse doubt.") The Scarecrow ad has been criticized for conveniently omitting the treatment of animals from its idyllic (vegetarian) utopia when Chipotle services over 130 million pounds of meat each year. No matter. For Millennials, a transparent, participatory process excuses all matter of loose ends and inconsistencies.
Most academics probably think about their courses and degree programs the same way Harvard Professor Steven Pinker thinks about writing: "A good piece of writing is like the perfect soufflé appearing in a spotless kitchen at the end of a cooking show. The messy work has been done beforehand and behind the scenes." But Millennials don't trust perfect soufflés. If they see one, they think it must be a scam. So institutions that want to continue to maintain enrollment levels had better revisit their opaque processes – financial aid certainly, but also enrollment, program and curriculum development and placement – and change the menu. Millennials don't want a perfect soufflé. They want a shrimp sale at the crab crib.
Thanks to Josh Tickell for his inspiring presentation on Millennials, and to Sabrina Kay for her inspiration in general.
University Ventures (UV) is the premier investment firm focused exclusively on the global higher education sector. UV pursues a differentiated strategy of 'innovation from within'. By partnering with top-tier universities and colleges, and then strategically directing private capital to develop programs of exceptional quality that address major economic and social needs, UV is setting new standards for student outcomes and advancing the development of the next generation of colleges and universities on a global scale.